The herd is located in the south of the Iberian peninsula, more specifically in the province of Huelva, where graze on the farm " El Zancarrón " ; to the farm can be reached by motorway from Seville to Huelva (A-49), leaving at exit 60 in the direction of Niebla, and taking the road there Autonomous A-472 in the direction of San Juan del Puerto, so that after about eight kilometers after the Candón stream, on kilometer 55, we will see the entrance to the right by a dirt road will cross the highway via a flyover and the farmhouse we will find the other side , Behind a forest of pines and unmistakable beauty. (See map)

There, the visitor will find, no doubt, some of the most beautiful in the Spanish race, but also the sediment from more than seventy years of history that make the iron Marín García stud in one of the basic iron horse Spanish Breed.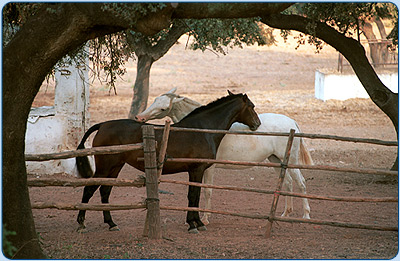 The farm is located in the municipalities of San Juan del Puerto and Trigueros, with a dimension of 215 hectares, distributed as follows:
Irrigations: 44 Has.
Rainfed: 133 Has.
Eucalyptus: 8 Has.
Pasture-ground (oaks, cork): 30 Has.


The prevailing climate is warm, with temperatures can vary, depending on the season, between 8 - 35 degrees C.

Facilities

Account farm Boxes for eight stallions, a stable and several sheds for the dams and foals.

Six closed of 10 hectares in total, with automatic waterers, cribs for hay and feed, and where they forage seed.

Fitted with a spring board for livestock, two wash areas with shower hose with colt of cures and medical supplies, two riding and tracks of different sizes, a walker, saddle-room , barns, foaling zone, mill feed, crushed grain, and in general all the facilities required for operating a stud of these features.